Motorbike And Scooter Hire Sydney CBD
Seamless Scooter Hire Services
Best Bike Hire & Rentals Near Sydney CBD
Navigating the buzzing streets of Sydney's Central Business District (CBD) often requires more agility than the average car or public transport can offer. Enter the world of scooters: the ultimate blend of convenience, economy, and utility with SYD CAR KING's unrivalled scooter rental service in Sydney CBD. Experience Sydney CBD like never before.
Why Scooters In Sydney CBD?
Travelling through the heart of Sydney poses unique challenges: bustling streets, unexpected traffic snarls, and the eternal quest for parking. Scooters and bikes, with their compact design and manoeuvrability, emerge as the perfect solution. Whether it's a quick dash across town for a business meeting or a leisurely ride soaking in Sydney's urban charm, scooters are the future of commuting in the CBD and other areas in Australia. While buying a new scooter might not be feasible for everyone, you can instead choose to hire one instead. And that is exactly what we at Syd Car King can help you with. We also offer electric scooter hires in Sydney CBD and beyond.
You can also read here as to "Why You Should Rent a  Scooter Rather than Buying it?"
Diverse Range Of Bikes On Hire
2023 HONDA PCX125
A new, larger engine, a new frame, Honda's Selectable Torque Control (HSTC) for consistent rear-wheel grip and wrapped it all up in some tasty innovative styling. And now the engine features a four-valve design, also making it cleaner and more economical.
Honda DIO 110
Perfect for food delivery services. Uber Eats, EASI, Hungry Panda, Deliveroo, Menulog etc.
Local as well as overseas license holders are welcome (suitable for international students).
YAMAHA N-max
Brand NEW! L plate approved. Sporty performance and outstanding economy. Dual ABS system. Ideal scooter for your daily commute to work, trips to the shops or days out to the beach.
Local as well as overseas license holders are welcome (suitable for international students).
* Minimum 3 month rental. $500 bond(refundable).
When it comes to scooter hires in Sydney, SYD CAR KING offers an array of choices to cater to the varied needs of our valued clients. From the traditional motorbike hire for those who love the purr of a powerful engine to the modern flair of the electric scooter hire, our fleet boasts of motorbike hikes with optimal performance. Explore our extensive range here.
Bikes On Hire for Every Purpose
Beyond mere commuting, our scooters have found favour among:
Daily Commuters: Bid farewell to crowded buses and trains. Opt for a scooter or a bike rental and transform your daily commutes into delightful rides.
All-Inclusive Scooter Hire Packages
Every scooter hire in Sydney CBD at SYD CAR KING is more than just a rental. We believe in providing a comprehensive package ensuring maximum value for our patrons. From safety gear to maintenance kits, our scooters come equipped with everything you need for a smooth ride This Includes helmets, phone holders, insurance, bike delivery and more. You also get free maintenance and servicing by placing a "Book A Service" request online or visiting any of our 12 service stations. Plus, for those who are newer to the world of two-wheelers, our bikes are LAMS approved, making them ideal for learners.
Few Considerations Before You Rent A Motorbike
Before renting a scooter or motorcycle, ensure you possess a valid driver's licence, as both rental eligibility and insurance coverage rely on it. Opt for a vehicle that matches your skill level among the diverse options available to us. Prioritise suitability over cost when selecting a bike hire without compromising safety and overall experience. Our scooter rental service in Sydney CBD is unrivalled in terms of brands, competitive pricing and range of services.
24/7 Road Assistance - Because The Unexpected Happens
Sydney's streets can sometimes throw a curveball. Flat tires, technical glitches, or simply unfamiliar terrains can stop your journey. But don't worry, our round-the-clock road assistance is just a call away. Whether you opt for a motorbike hire or an electric scooter hire in Sydney CBD, rest easy knowing that SYD CAR KING has got your back, anytime, anywhere.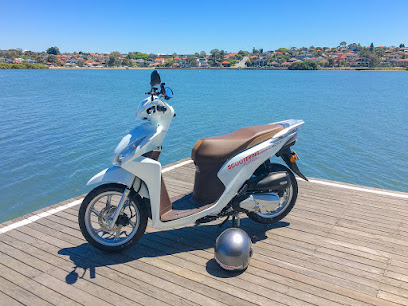 We understand that flexibility is key, especially in a fast-paced environment like Sydney CBD. That's why our return process is as seamless as our scooters. With dedicated drop-off points and a straightforward documentation process, returning your scooter is a breeze. You just need to make sure that you give us a two-week prior notice.
Rediscover Sydney CBD With Syd Car King
From the historic lanes to the towering skyscrapers, Sydney CBD holds myriad stories. And there's no better way to weave through these tales than on a scooter. Whether you're a bike hire enthusiast or someone seeking a greener mode of transport with our electric scooter hire, Syd Car King promises an unparalleled experience.