Scooter Rental Waterloo
Seamless Scooter Hire Services
Best Bike Hires & Scooter Hires In Waterloo
Get ready to explore Waterloo and surrounding suburbs with a diverse range of scooter and bike rentals offered by SYD Car King. Whether you're a local looking for a convenient mode of transportation or a tourist eager to explore the city, our store has got you covered. Our scooter rental or bike hire options cater to preferences of all our customers in Waterloo and the nearby suburbs. With affordable rates and flexible scooter rental durations, you can cruise around at your own pace, enjoying the sights and sounds of this vibrant city. So, call us today and learn more about our bike hire services!
How Can Anyone In Waterloo Avail Our Bike Service?
Renting a bike or scooter from us is very easy. All you have to do is:
Choose a bike/ride that is perfect for your needs and purpose.
Submit important documents like driver's licence and passport
Sign the contract papers by visiting our showroom in Alexandria
Inspect the bike and take it home
Comprehensive Scooter & motorbike Hire Packages
2023 HONDA PCX125
A new, larger engine, a new frame, Honda's Selectable Torque Control (HSTC) for consistent rear-wheel grip and wrapped it all up in some tasty innovative styling. And now the engine features a four-valve design, also making it cleaner and more economical.
Honda DIO 110
Perfect for food delivery services. Uber Eats, EASI, Hungry Panda, Deliveroo, Menulog etc.
Local as well as overseas license holders are welcome (suitable for international students).
YAMAHA N-max
Brand NEW! L plate approved. Sporty performance and outstanding economy. Dual ABS system. Ideal scooter for your daily commute to work, trips to the shops or days out to the beach.
Local as well as overseas license holders are welcome (suitable for international students).
* Minimum 3 month rental. $500 bond(refundable).
Who can Use Our Rental Scooters
For people in Waterloo working odd shifts by delivering food for platforms like Uber Eats, Deliveroo, Hungry Panda or those looking to use them as a daily commute, our rental scooters suffices all your needs. It's compact yet powerful enough to navigate through tight spaces and conquer any terrain with ease.
With Multiple Service Stations, Your Bikes Are Kept In Good Condition
Every rental bike is required to be kept in a good condition for it to function smoothly. With our conveniently-located service centres spread across Sydney, you can choose the nearest service station from your Waterloo location and we will provide you with prompt service. This includes everything from engine oil changes, engine checks, speedometer repairs, tyre changes and more. 
Easy Bike Return Process:
Returning bikes at SYD CarKing is a fairly simple process. You need to give two-week prior notice when returning the scooter. You can give an intimation by calling us at our hotline number- 02 4086 5888 or sending us a message on 0455 307 888. You can also email us at info@sydneycarking.com.au. Drop the bikes directly at our shop. However, if you want us to tow it back, extra charges will be applicable.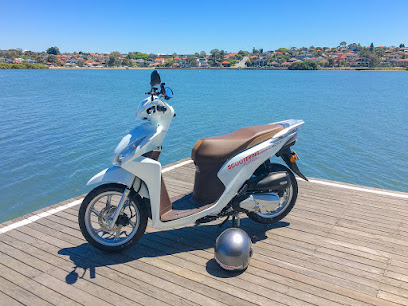 For you to enjoy safer rides, make sure you keep the scooters and bike rentals in good condition. Regularly check tire pressure, mirrors, brakes, and lights and start the scooter daily for at least 5-10 minutes. This ensures that you have a safer ride while also keeping your vehicles in excellent condition.
Call 0455 307 888 to learn more about our bike hire services now!